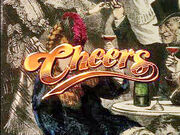 Cheers
is an American situation comedy television series that ran eleven seasons from 1982 to 1993. It was produced by Charles-Burrows-Charles Productions in association with Paramount Television for NBC, having been created by the team of James Burrows, Glen Charles, and Les Charles. The show is set in the Cheers bar (named for the toast "Cheers") in Boston, Massachusetts, where a group of locals meet to drink and have fun. The show's theme song was written by Judy Hart Angelo and Gary Portnoy and performed by Portnoy;[1] its famous refrain, "Where Everybody Knows Your Name" also became the show's tagline.
After premiering on September 30, 1982, it was nearly cancelled during its first season when it ranked dead last in ratings.[2][3] However, Cheers eventually became a highly rated television show in the United States, earning a top-ten rating during eight of its eleven seasons, including one season at #1, and spending the bulk of its run on NBC's "Must See Thursday" lineup. Its widely watched series finale was broadcast on May 20, 1993. The show's 273 episodes have been successfully syndicated worldwide, and have earned 28 Emmy Awards from of a total of 117 nominations.[4] The character Frasier Crane (Kelsey Grammer) was featured in his own successful spin-off, Frasier.
Production
Edit
The concept for Cheers was the end result of a long consideration process. The original idea was a group of workers who interacted like a family, hoping to be similar to The Mary Tyler Moore Show. They considered making an American version of the British Fawlty Towers centered around a hotel or an inn. When the creators settled on a bar as their setting the show began to resemble the radio show Duffy's Tavern. They liked the idea of a tavern as it provided a continuous stream of new people arriving, giving them a constant supply of characters. Picture of Bull & Finch Pub in Boston in 2005. This view is similar to the opening credits of the show.
After choosing a main plot, the three had to choose a location. Early discussions centered around Barstow, California, then Kansas City, Missouri. They eventually turned to the East Coast and Boston. The Bull & Finch Pub in Boston that Cheers was styled after was originally chosen from a phone book. When Glen Charles asked the owner to shoot initial exterior and interior shots the owner agreed, charging $1. He has since gone on to make millions, licensing the pub's image and selling a variety of Cheers memorabilia, making the Bull & Finch the 42nd busiest outlet in the American food and beverage industry in 1997. Coincidentally, during the casting of Shelley Long (who was in Boston at the time filming A Small Circle of Friends), Long remarked that the bar in the script resembled a bar she had come upon in Boston, which turned out to be the Bull & Finch.
Most Cheers episodes were shot before a live studio audience on Paramount Stage 25, generally on Tuesday nights. Scripts for a new episode were issued the Wednesday before for a read-through, Friday was rehearsal day, and final scripts were issued on Monday. Nearly 100 crewmembers were involved in the shooting of any given episode. Burrows, who directed most episodes, insisted on shooting on film rather than videotape. He was also noted for using motion in his directorial style, trying to always keep characters moving rather than standing still.
The crew of Cheers numbered in the hundreds; as such, this section only provides a brief summary of the many crewmembers for the show. The three creators — James Burrows, Glen Charles, and Les Charles — stayed on throughout the series as executive producers along with Tom Palmer. In fact, the two Charles brothers kept offices on Paramount's lot for the duration of the Cheers run. In the final seasons, however, they handed over much of the show to Burrows. Burrows is regarded as being a factor in the show's longevity, directing 243 of the episodes and supervising the show's production. David Angell was also a part of the crew from the start, writing many Cheers episodes. The show was often noted for its writing, which most credit, along with other production factors and the ensemble cast, for the show's success.
Main Cast
Edit
Ted Danson as Sam Malone seasons 1-11
Shelley Long as Diane Chambers 1-5, 11
Nicholas Colasanto as Ernie "Coach" Pantusso seasons 1-3
Rhea Perlman as Carla Tortelli seasons 1-11
George Wendt as Norm Peterson seasons 1-11
John Ratzenberger as Cliff Clavin seasons 1-11
Kelsey Grammer as Frasier Crane seasons 3-11
Woody Harrelson as Woody Boyd seasons 4-11
Bebe Neuwirth as Lilith Sternin seasons 4-11
Kirstie Alley as Rebecca Howe seasons 6-11

Season One
Edit
Episode 121 - Show Down (Part 1)
Episode 122 - Show Down (Part 2)
Diane is still involved with Sam's brother, but says she loves Sam, so she returns to the bar to give him one last chance...
Season Two
Edit
Episode 201 - Power Play
Sam and Diane's relationship starts roughly, and no one at Cheers expected otherwise
Ad blocker interference detected!
Wikia is a free-to-use site that makes money from advertising. We have a modified experience for viewers using ad blockers

Wikia is not accessible if you've made further modifications. Remove the custom ad blocker rule(s) and the page will load as expected.