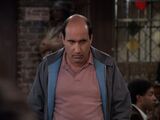 Eddie is a disappointed suitor of 
Carla's
 that appears in the opening act of "
I Call Your Name
". He is played by Mitch Kreindel. Kreindel has appeared in the movies "Being There", "The Incredible Shrinking Woman" and "Modern Problems". He also has guest-starred in several TV shows, including "Barney Miller", "Hart to Hart", "Cagney and Lacey", "Night Court", and "Parker Lewis Can't Lose". 
Mitch Kreindel at IMDb.
Ad blocker interference detected!
Wikia is a free-to-use site that makes money from advertising. We have a modified experience for viewers using ad blockers

Wikia is not accessible if you've made further modifications. Remove the custom ad blocker rule(s) and the page will load as expected.