If you were looking for the actor who played Lewis, please see Sam Scarber.
Sam "Mayday" Malone

First Appearance

Last Appearance

"The Show Where Sam Shows Up" (Frasier)

Episode Count

270 (+ 1 episode of Frasier)

Seasons

1-11 (1982-1993)

Occupation

Relief Pitcher (former), Bar Owner, Bartender

Family Members

Portrayed by
Samuel "Mayday" Malone is the owner and bartender at Cheers for the majority of the series. Before his time at Cheers, Sam was a relief pitcher for the professional baseball team, the Boston Red Sox. Sam is a recovered alcoholic and a womanizer. He bought Cheers when he was still drinking and decided to hold onto the bar for sentimental reasons. Sam hires Diane Chambers in the first episode and eventually becomes romantically involved with her in the second season. After breaking up at the end of the second season, the two have a love-hate relationship from that point on. At the end of the fourth season Sam proposes to Diane. After many stressful times asking Diane to marry her, she finally agrees to do so. At the end of the fifth season, when the two get to the altar, Sam tells Diane to go and fulfill her career as a writer instead of marrying him. Sam then sells the bar and leaves his friends to sail around the world. When he returns to the bar at the start of the sixth season he manages to get Rebecca Howe, the new bar manager, to hire him back as a bartender. He remained as a bartender until the final episode of the eighth season when he buys the bar back from the corporation he sold it to, for one dollar. Sam remains the owner of the bar for the rest of the series.
In Cheers's spin-off,
Frasier
, Malone appears in the Season 2 episode "The Show Where Sam Shows Up", where he is a self-declared sex addict; who is engaged to Sheila, another sex addict (played by Tea Leoni) who admits to having sex with a lot of the patronage at Cheers. However, they break up when Sheila admits to sleeping with 
Cliff
.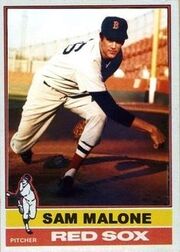 Ad blocker interference detected!
Wikia is a free-to-use site that makes money from advertising. We have a modified experience for viewers using ad blockers

Wikia is not accessible if you've made further modifications. Remove the custom ad blocker rule(s) and the page will load as expected.