Recurring Characters
Edit
Notable Guest Stars
Edit
Celebrity and Cameo Appearances
Edit
DVD Release
Edit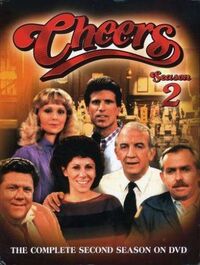 Release Information
Edit
Studio: Paramount Home Video
Release Type: Season Boxed Set
Release Date: (Region 1) 1/06/2004
Release Date: (Region 2) 6/24/2004
Release Date: (Region 4) 5/5/2004
Number of Discs: 4
Number of Episodes: 22
Running Time: 539 mins
Audio/Video Information
Edit
Video: Full Frame (1.33:1)
Audio: English - Stereo
Subtitles: Closed Captioned (Region 1)
Subtitles: Danish, English, Spanish, French, Italian, Norwegian, Swedish (Region 2)
Strictly Top-Shelf: The Guys Behind The Bar: Clips of a 1983 interview with the show's creators, Ted Danson, and Shelley Long, taken from "Entertainment Tonight", talking about the show and the second season. Also includes clips from the shows, and more recent comments from Danson, George Wendt, and Rhea Perlman, about working with each other and with the creators.
Cliff's Notes: The Wisdom of Cliff Clavin: Clips focusing on the Cliff character, along with a few comments from Wendt on John Ratzenberger.
Carla The Comeback Queen: Insults For Every Occasion: Clips showing Carla, along with some comments from Danson on Perlman.
Di Another Day: Diane Chambers From A-Z: Clips showing Diane, along with comments from Danson.
Gag Reel: Bloopers from Season 2: A blooper reel.
Ad blocker interference detected!
Wikia is a free-to-use site that makes money from advertising. We have a modified experience for viewers using ad blockers

Wikia is not accessible if you've made further modifications. Remove the custom ad blocker rule(s) and the page will load as expected.